Summary rating from user's marks. You can set own marks for this article - just click on stars above and press "Accept".
Accept
Airwolf AW3D HD
Price:
$2,995
"With Airwolf's commitment to customer support and innovation in 3D printing hardware and software, you can be sure that you are getting a product that is well worth the investment"
Back to reviews
Visit website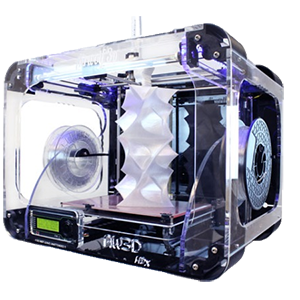 The Airwolf AW3D HD 3D printer has stunning looks, accuracy, speed and enough variability to make for an excellent machine with a fair price point. Everything about the AW3D HD, from its acrylic body to its variability in printing material options, lets you know that Airwolf is a serious US 3D printer company.
The Airwolf AW3D HD is a beauty, in both the visual and technical senses of the word. Airwolf has encased its machine inside a cage of acrylic, so you can see what's really going on in there. Colored plastics inside, along with LED lighting, really make this printer a piece of eye candy. An etched "Airwolf" logo on the front fascia really brings the design together. All of those beautiful looks encase a very large print envelope; the bed can print an iPad case in one take. The 12x8x12in envelope makes it possible to print larger objects, eliminating the need to piece together printed images jigsaw-style. Seriously, you can't go wrong with 1,150 cubic inches of build space. The deal is sweetened by a heated borosilicate glass bed, coated for just the right amount of stick, which is partially enclosed to accommodate temperature stability. The printer is capable of printing with twelve filament types, including ABS and PLA.
Straight from the box, this printer is ready to create stunning, accurate images at fast speeds. The AW3D HD can print perimeters at speeds of 150mm/sec, with a full travel speed of 400mm/sec. Using oversized motors and precision motion belts, Airwolf has designed a capable, strong machine. With its 60 micron layer resolution and 0.02mm theoretical positioning precision, the printer can take on miniscule details and produce them as images with very little to complain about. The extruder, equipped with a jam-resistant hot end, allows for flawless printing more often, resulting in more successful prints. In true experimental fashion, the AW3D HD has been equipped with the ability to interchange nozzles. That's correct; not only can you print with a standard 0.5mm orifice, but you can easily change from that to a higher resolution 0.35mm orifice. Why make a decision on what nozzle size to have when you have a choice?
AW3D HD is also very tech-friendly, offering untethered printing, convenient software and an LCD controller. With fully autonomous use, there is no need to plug into a computer to print. Just load your design onto an SD card and insert it into the printer. Using the Viki LCD controller, which is Airwolf's proprietary control panel and interface, you can select the image and settings, and then print 'til your heart is content. Viki also lets you visually monitor parameters such as temperature and peripheral activity. MatterControl software is included with the printer, and is touted as very easy to use. Other GCode input software applications will work, but even some of the more experienced customers are saying that they are switching from software like Slic3r and Repetier to MatterControl due to its ease of use, simplicity and user friendliness. Naturally, the system is compatible with Windows and Mac operating systems.
Along with a six-month warranty, the printer comes with multiple levels of online support. The company's warranty includes parts for the first six months of ownership, and contacting the company is a snap. Not only can you contact Airwolf through email and by phone, but their website offers updates, software, blogs, instruction booklets and a wiki for well-rounded, community-style customer service. A thorough maintenance guide can also be found on the website. The printer is shipped with an integrated power supply, a printed user guide, single 2lb spool of 3mm ABS starter filament, flash drive with software installed, USB cord, tool kit and two hours of free training at Airwolf's facility in Costa Mesa, California. If you want to pick your printer up at their facility, just give them a call and schedule a time. They will give you a training session and load the software onto your computer for you.
With Airwolf's commitment to customer support and innovation in 3D printing hardware and software, you can be sure that you are getting a product that is well worth the $2995 investment. A single extruder may be a deal breaker for some more serious 3Ders, but a dual extruder upgrade kit is in the works for some time this year. With its software suite, support and looks to die for, the AW3D HD is a well-designed and fun to use 3D printer and definitely worthy of inclusion in our list of iReviews 2015 best 3D printers under $5,000.
Related YouTube videos: