Summary rating from user's marks. You can set own marks for this article - just click on stars above and press "Accept".
Accept
M3D Micro
Price:
$349
Pros:
Exceptional design, great quality for its price.
Cons:
Not yet available to the public, smaller builds and slightly slower speeds.
Back to reviews
Visit website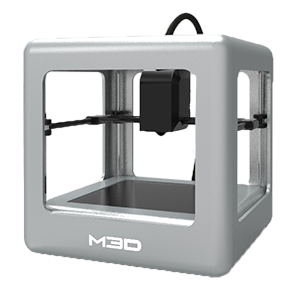 The M3D Micro is one of the premier up and coming 3D printers on the market today. Although it hasn't yet been released to the public, this 3D printer is very promising and has received a lot of positive buzz in the industry. With a solid prototype and a kickstarter project that has received more backing than any other 3D printer concept, there is no doubt that this printer, which is set to be delivered in February 2015, will be a very successful seller for years to come.
The M3D Micro is designed to be a real game changer. The company is made up of a team of engineers and artists who are very passionate and dedicated to changing the 3D printing industry forever. It was co-founded by a bio-engineer and a robotics expert who have managed to combine their talents and skills into the design of a product that provides the best in both areas. Their design includes precision movement and innovative filament materials that are sure to dazzle with both their innovation and quality. They are in the process of expanding and hiring new personnel who can also bring their own unique talents to the table of a company that is sure to grow to exponential levels.
The cornerstone of the technology is what the company refers to as the Micro Motion Sensor Chip, an special microchip which is the brain of the printer, designed to provide precise head movement and extrusion, up to within 15 microns of tolerance for both x and y axes. The chip uses intelligent positioning feedback to make movement even more precise than most other printers out there today. The result is the perfect balance between affordable price and exceptional quality.
Further adding to this precision, as well as increasing durability, is a set of lightweight carbon fiber rods. An aerospace-grade ceramic heating system provides steady, consistent and precise heating of both the extruder and print bed. A patented multi-calibration system ensures consistency as well, providing the same quality results time and time again with no drifting or margin for error. In a more innovative move, unlike most other 3D printers that keep the filament cartridge on the top of the printer, the M3D Micro keeps its filament in a pop-up compartment underneath the print bed. It is not only cleverly concealed to present a more pleasing look and design, but changing of filament materials is made easy and convenient as well, combining aesthetics with functionality.
The M3D Micro comes in 5 colors: Blue, Green, Orange, Black and Silver. When you pre-order your printer, you can choose any of these stylish colors, as well as an additional 12 colors each of PLA and ABS filaments to add to your purchase, ensuring that when your printer arrives at your doorstep, it will be ready to go out of the box, a home manufacturing system that will produce reliable, stylish and top quality results.
Included with your package are the M3D Micro printer and M3D software designed to provide an easy plug-and-play experience right out of the box. Also included is the micro motion sensor for enhanced accuracy and print quality, a USB connection cable, a country-specific power adaptor, instructions and warranty information. Once unboxed and set up, M3D touts their printer as one that can print anything, from the most detailed city models to anything else you can imagine, all with amazing precision. Loading your design file into the software and starting the print job will get it under way. Before you know it, you will have your beautiful new creation in hand.
The M3D Micro features a layer resolution down to 50 microns, which rivals some of the best 3D printers in the market. Extrusions speeds are a little slow compared to other printers in its class, at only 60mm/s, which we have found to be OK when accommodating the smaller builds that are less than 5 inches in diameter. There is an obvious trade-off between quality and speed with any application, and because the builds produced by this printer are so small, the speed doesn't really seem to matter too much, as jobs are still able to be completed in a reasonable amount of time.
Although they provide PLA and ABS filaments that can be included in your pre-order of this printer, it is rated to support other materials as well, such as nylon, professional grade and color changing filaments. The compartment underneath the print bed takes a ½ pound spool of standard 1.75mm filament that is offered by M3D for only $13 per roll, which is very reasonable. Combined with a limited time, pre-order price of just $349, this package also provides the best value in this category that can be found today. It is for this reason, as well as all of the others listed above, that we place the M3D Micro as the iReviews top pick for 2015 best 3D Printer under $1000.
Related YouTube videos:
Embed: <a href="http://3d-printers.ireviews.com/m3d-micro-review"><img src="http://www1.ireviews.com/images/2015-iReviews-gold-badge.png" alt="M3D Micro iReview"/></a>