Summary rating from user's marks. You can set own marks for this article - just click on stars above and press "Accept".
Accept
ORD Solutions MH3000 Five Color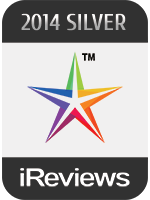 "With its innovative five extruder design and liquid-cooled hot ends, this printer is an excellent example of what can be accomplished with enough drive and tech savvy."
---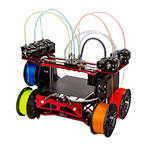 The Ontario-based Object Replication & Design (ORD) Solutions has developed a fully-customizable, well-constructed 3D printer with five, yes FIVE, extruders. The ORD Solutions MH3000 Five Color 3D Printer offers a very durable list of materials used in its construction. Engineered as a heavy-hitter, the MH3000's design does not skimp on mechanical prowess, and its looks are to die for. ORD Solutions has designed a very innovative product in the way of features, number of extruders, and workmanship.
Upon first glance, the MH3000 looks like a colorful version of a planetary rover, with its side mounted filament spools and superior construction. The plate frame, made of aircraft aluminum, is rigid and engineered for a long service life, and anodized with an attractive red hue. Weighing in at 65lbs, the machine displays its beefiness proudly. Top-mounted extruders use stainless steel gears, not soft brass, to move the filament about. All plastics are injection molded for durability. Each pulley is constructed of metal for longer life, and all bearings are stainless steel. With proper maintenance, this machine is made to go for miles. For the first time, a 3D printer of this caliber offers liquid-cooled hot ends, to prevent backups and jamming. Moving parts are all easily accessible, making this printer a dream for you to use and maintain.
When ordering your MH3000, the option is given for 1, 2, 3, 4, or 5 extruders. For each extruder, an option of nozzle size is given; you can choose the primary nozzle to be 0.35mm, 0.5mm, or 0.7mm. The 0.35mm nozzle is for more experienced users, where the 0.7mm nozzle is handy for building large parts and fast printing. The 0.5mm nozzle is considered the default size. Each of the four subsequent nozzles is available in 0.35mm or 0.5mm sizes, and you may shake up your MH3000 by ordering it with a mix of different nozzles for added versatility. With a layer height of 0.025/1.0mm (min/max), this printer can print with accuracy and with speed. The X and Y axes print with an accuracy of 10 microns, and the Z axis is accurate to 0.5 micron.
The liquid-cooled extruders are capable of printing with filaments of PLA, ABS, soft PLA, nylon, and polycarbonate material. Thermocouples monitor two of the print heads, for accurate use in medium to high temperature applications. For low to medium temperature print jobs, three print heads are monitored by thermistors. The hot ends are capable of printing at 450 degrees Celsius, and are insulated for durability. MH3000's Bowden-style extruders are coupled with quick-release feed gears for faster, easier filament changing. The extruders are side-mounted, which allows for easy access for cleaning and maintenance, and also removes them from the X-carriage, which makes printing speedier.
Other deluxe amenities included with the printer make it stand out among the most intuitive designs. The print bed, with its custom 20-amp heating circuit, reaches a top temperature of 115 degrees Celsius. High-torque stepper motors allow for precision and speed in printing. A 12.59 liter print area allows for creating large objects. ORD Solutions has all of the parts for the MH3000 custom-built to their specifications, including the controller board, and it arrives to your door as a fully assembled, ready to print machine.
The MH3000 uses open source software and is Windows, Mac and Linux compatible. A basic three month parts warranty is included with the package, and you can choose extended warranties for parts and labor for one, two or three years. Parts warranties exclude the machine's aluminum plates, threaded rod, and nuts and bolts, and leaves shipping charges to the customer. Extended warranties cover the same parts, but pay for labor up front. Warranties of all kinds are voided by modifications done by the user or opening the electronics cover without the express written consent of ORD Solutions. Twelve months of printing support is also optional, but one month of support is included. As the purchaser, you also have the option to purchase a maintenance and tool kit for your new printer.
The MH3000 has exceeded expectations from the starting line. ORD Solutions set out in a Kickstarter campaign to raise $25,000, and exceeded that goal by over 400%, with 96 backers. The V2 model of the MH3000 is now available, but will be getting a name upgrade soon. ORD Solutions will give a new V2 printer to the person who can come up with the best name for its newest design. Canadian and US residents were encouraged to submit name ideas by June 20th, 2014 and the winner would be chosen from the field.
With its innovative five extruder design and liquid-cooled hot ends, this printer is an excellent example of what can be accomplished with enough drive and tech savvy. Engineered for the long haul, the manufacturer's choice of materials for working parts and special attention paid to maintainability speaks volumes for a design that comes from what is still considered an "experimental" industry. At a price point of $2,599 this printer is a great value, combining unparalleled versatility, ease of use, and tough design. It is for these reasons that we have chosen the ORD Solutions MH3000 Five Color 3D Printer to be on our list of iReviews 2014 best 3D printers under $5,000.
Related YouTube videos: