Summary rating from user's marks. You can set own marks for this article - just click on stars above and press "Accept".
Accept
ORD Solutions RoVa3D Version 2
Price:
$3,495
Pros:
1. 5 print heads.
2. Made from space-age durable materials.
3. Incredible precision and reliability.
Cons:
1. Higher priced than most printers in its class.
2. Design is functional more than stylish.
Back to reviews
Visit website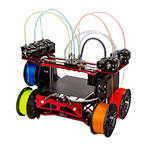 The ORD Solutions RoVa3D Version 2 is a stellar improvement over their offering we reviewed last year, the MH3000. This upgrade features an improved design, keener precision and continued value for your money. We couldn't think of a better 3D printer in its class to top our list of iReviews best 3D printers under $5000.
The RoVa3D is manufactured with space-age components in a way that provides enhanced durability to an already solid product. The MH3000 was already a cut above the rest, and it is a true testament to ORD Solutions and their dedication to providing the best in the industry by surpassing even themselves. While other companies would consider an already superior offering sufficient and choose to continue to market a product until the market catches up and demands improvements, ORD Solutions heads those other companies off at the pass by continuing to proactively stay ahead in a quickly advancing field.
In addition to being able to print at layer thicknesses down to 25 microns, the RoVa3D Version 2 also comes with the ability to install extruders with 5 different thickness levels, ensuring that, no matter the job, you will be able to find the right combination of attributes and materials needed to produce finely detailed prints and high quality results overall. Being equipped with 5 heads also allows for faster, better quality and more efficient multi-color and multi-material printing. There is no need to interrupt a job to change spools of filaments and no danger of the job cooling to the extent that filament layers don't bond to each other as well, producing fragile builds. With 5 heads, the heads and the print surface all stay within consistent specified temperature ranges.
The RoVa3D produces good sized builds as well, rivalling most of the printers in its class in yet another way. Precision motors and pulleys allow for consistent results from print job to print job with little to no variation. Liquid cooled hot ends prevent jamming and improve performance and the heated print bed is capable of getting up to temperature from a cold start quickly and consistently. In another revolutionary but extremely practical step, they use a combination of thermocouples and thermistors to ensure accurate and consistent reading of temperatures in both the low and high ranges. They have found so many ways to get the most out of their printers, as well as the components with which they're built.
One of the convenience factors added to this printer is the inclusion of a 7 inch Android touch screen tablet with SD card capabilities to allow printing on the fly without the need to be connected to a computer. Simply configure your design on the Android app, save it to the SD card, and then transfer the file to your printer via the card. You will be up and printing, producing quality results in no time and with very little effort. The ORD Solutions RoVa3D Version 2 is all of that and more, a worthy addition to anyone's small or medium business manufacturing arsenal, and a worthy choice as iReviews top pick for 2015 best 3D printer under $5000.
Related YouTube videos:
Embed: <a href="http://3d-printers.ireviews.com/ord-solutions-rova3d-version-2-review"><img src="http://www1.ireviews.com/images/2015-iReviews-gold-badge.png" alt="ORD Solutions RoVa3D Version 2 iReview"/></a>